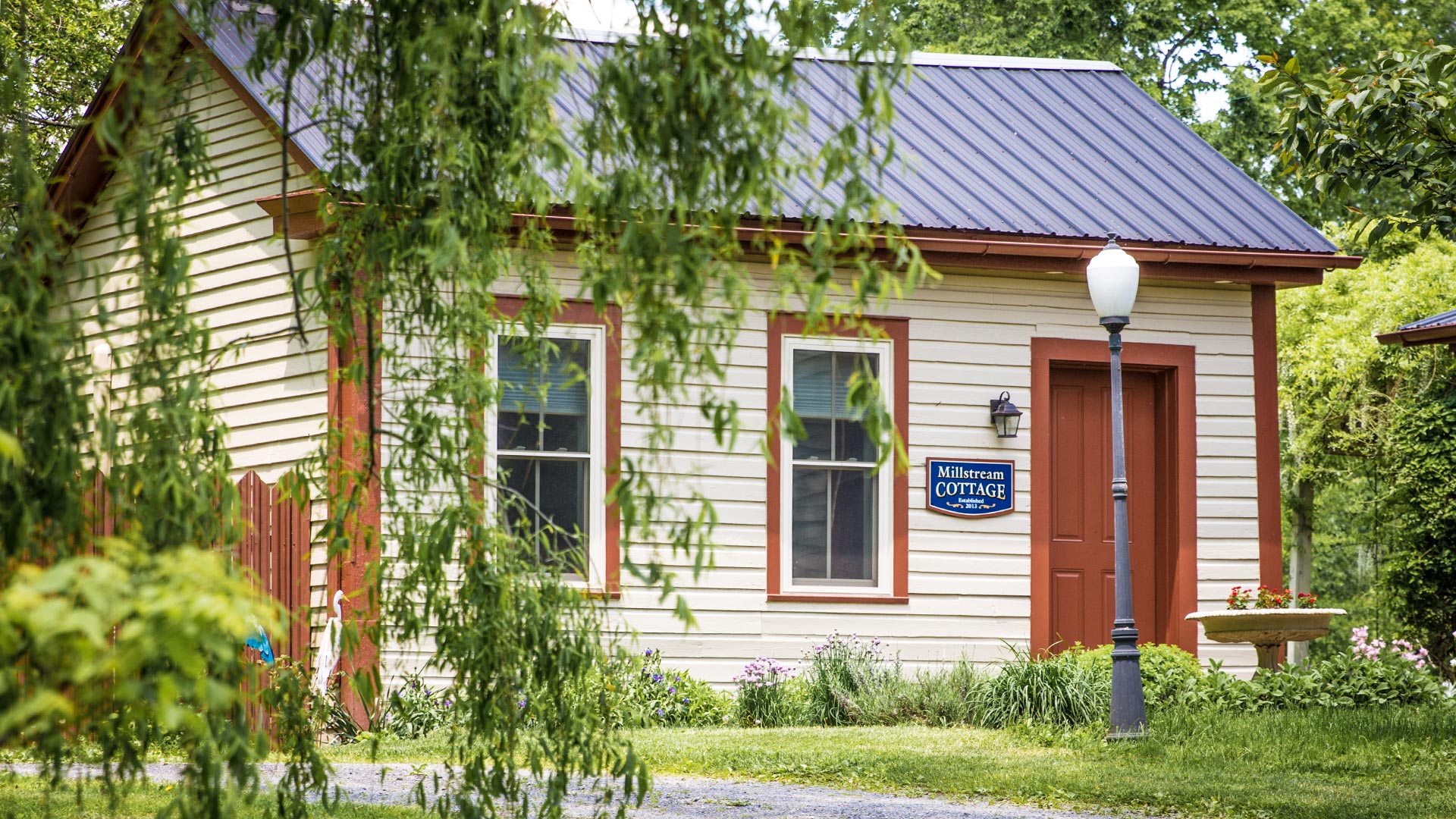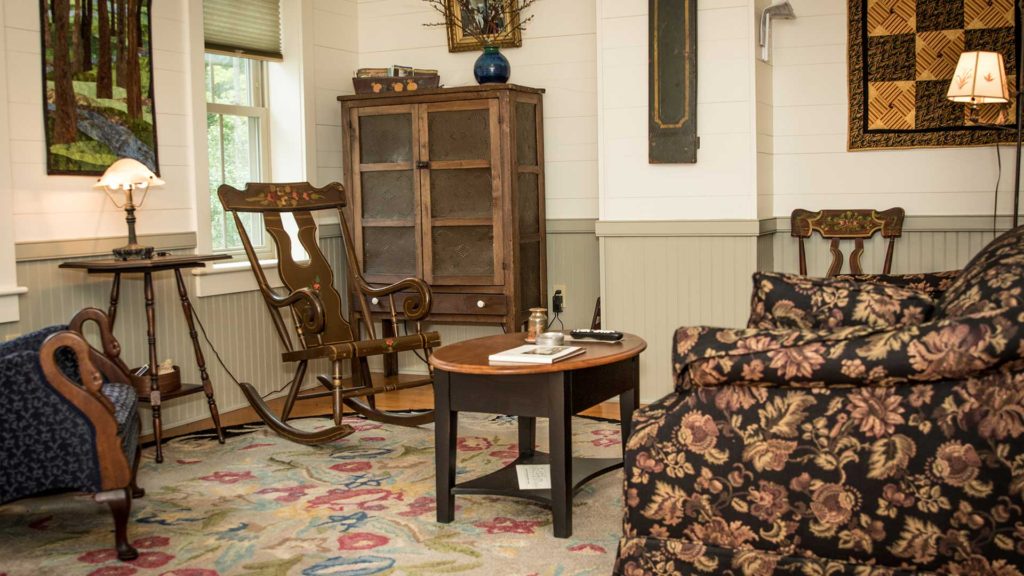 Property type: Small cottage, 500 square feet.
Accommodation type: Vacation rental.
Breakfast breads with a variety of teas/coffee provided.
Meals: Guests provide their own.
Suitability: Pets not allowed, non-smoking, 21 years old.
Bedroom: One bedroom with one queen bed, one full sofa bed. The cottage sleeps 2 comfortably.
Kitchenette: Apartment-sized refrigerator and stove, microwave, toaster, coffeemaker, cooking utensils, and dinnerware, coffee, tea, etc. provided.
Amenities: Convenient parking, TV, wireless internet, linens provided, central heat and air-conditioning.
Theme: Country get-away with historic charm.
Location: Rural with easy access to Lewisburg, Mifflinburg, Selinsgrove and within one hour's drive of State College, Williamsport, Bloomsburg, and Harrisburg.
Activities: Mountain biking, hiking, kayaking, canoeing, cycling, fishing, antiquing, sightseeing, winery, hunting, scenic drives, shopping.
Located in Central Pennsylvania on a historic nineteenth century mill property, Millstream Cottage is nestled between Sampsell's Mill and the mill house. From 1818 to 1952 the cottage was the summer kitchen where the miller's wife processed food and cooked for her family and the mill hands. Today, it is a modest refuge for the traveler. Next door, the old flour and grist mill is home to Penns Creek Pottery where potter Bill Lynch has created beautiful stoneware for 34 years. Millstream Cottage offers a quiet, convenient retreat. It is located at the eastern end of Jack's Mountain on Penns Creek where the mill race diverted water to power the mill's wheels and turbines. Guests may choose to have their morning cup of coffee on the patio or while strolling amidst the wildflowers on the mill race path. The site has abundant wildlife: eagles, songbirds, osprey, hawks, deer, rabbits, and more. There are ample opportunities for outdoor activities in the area. Outfitters are available to provide all you may need to kayak, canoe, hike, bicycle, and fish. A visit to the pottery is a must; there is a very good chance visitors will see Bill or one of our other potters Wendy and Jane working at the potter's wheel.
Shade Mountain Winery
which offers a wide variety of local wines and
T & D Cats,
a rescue for tigers, lions, and other mistreated animals, are both just minutes away.
Tall Timbers in Snyder-Middleswarth Natural Area,
R.B. Winter State Park,
and
Walker Lake
are about a 20 minute drive. Millstream Cottage (65 Pottery Lane, Mifflinburg, PA, 17844) is 3 ½ miles south of Mifflinburg, PA, on Route 104. It is easily found on Google Maps, but when using other GPS systems it is advised to enter the intersection of Route (highway) 104 and Wildwood Road.